Haiyin Wang, PhD
Director, Plant Sciences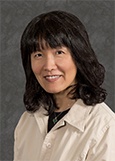 Dr. Haiyin Wang came to Agricen Science with more than fifteen years of industry experience in biotech research and product development. Dr. Wang's expertise spans the fields of plant biology, molecular biology,and biotechnology. As a senior scientist, she leads Agricen Sciences' research efforts on development and implementation of systems biology approaches to improve plant nutrition and growth.
Prior to joining Agricen Science, Dr. Wang was a research scientist at DuPont Pioneer, developing biotech products to improve agronomic traits in maize under abiotic stress. In that capacity, she led multidisciplinary team efforts to understand the transgene mechanism associated with improved plant growth and yield.
Dr. Wang received her BS in plant physiology and plant biochemistry from Peking University, Beijing, China. She earned her PhD in plant pathology, with an emphasis on Molecular Biology, from Purdue University.