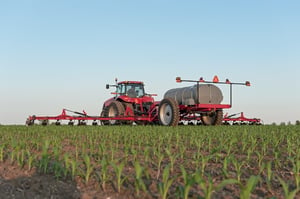 A study published in the Journal of Environmental Quality showed that SoilBuilder, a biologically derived biochemical product, reduces nitrous oxide (N2O) emissions associated with nitrogen fertilizer applications. The study was led by researchers at Auburn University, in collaboration with USDA-ARS and Agricen Sciences, and investigated how microbial-based treatments affect nitrous oxide emissions from agricultural soils. It is one of the first studies to evaluate the use of microbial-based inoculants for the purpose of reducing nitrous oxide emissions from soil combined with common agricultural nitrogen fertilizers.
The treatments investigated were SoilBuilder, a metabolite extract of SoilBuilder (SoilBuilder filtered - containing no microbial cells), and a mixture of four strains of plant growth-promoting Bacillus species. Experiments included two different N fertilizer treatments (urea and UAN 32%) and an unfertilized control. Nitrous oxide emissions were determined from soil incubations and analyzed with gas chromatography.
In soils fertilized with UAN, SoilBuilder reduced cumulative nitrous oxide emissions by 80% and its metabolite extract reduced emissions by 44% after 29 days of incubation. In the unfertilized treatment, SoilBuilder's metabolite extract significantly reduced cumulative emissions of nitrous oxide by 92%. Microbial-based treatments did not reduce nitrous oxide emissions associated with urea application. Overall, the researchers concluded that microbial-based treatments can reduce nitrous oxide emissions associated with nitrogen fertilizer application, and that this response varies with the type of treatment and fertilizer.
Citation: Calvo P, Watts DB, Ames RN, Kloepper JW, Torbert HA. Microbial-Based Inoculants Impact Nitrous Oxide Emissions from an Incubated Soil Medium Containing Urea Fertilizers. J Environ Qual. 2013. doi: 10.2134/jeq2012.0300.